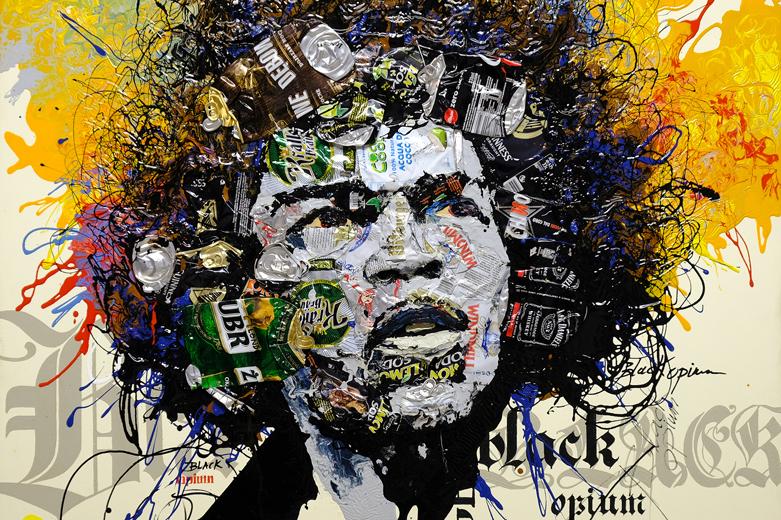 AFRAN
Afran, Cameroonian artist, carries out a social research expressed through metaphors and symbols. His sculptures and collages are dressed in denim or in coloured cans, materials used as metaphor for the contemporary world, highlighting how fashion has spread in such a way as to nullify genders and geographical differences and characteristics.
EAU SAVAGE
Acrylic, enamel and collage on wooden table
92 x 94 cm
2017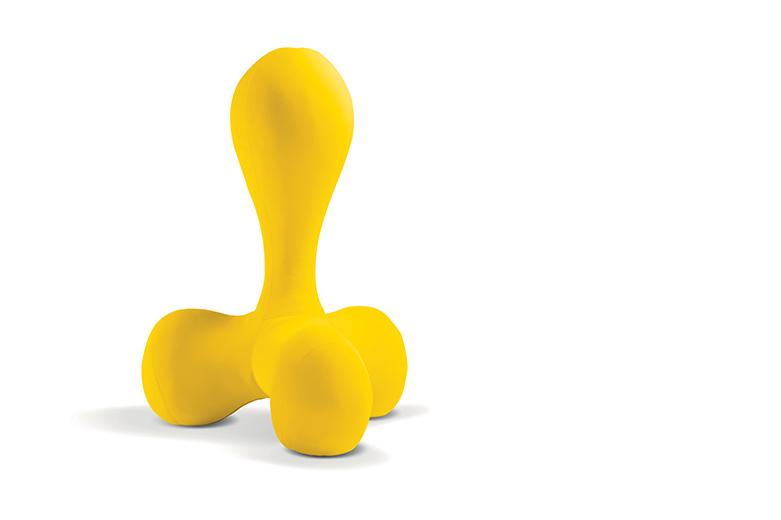 ADRENALINA
Adrenalina, Italian company dedicated to coloured upholstery, presents some historical pieces and others from the newest collections. The most iconic chairs ironically recall the male and female worlds, playing with shapes and colours in surprising ways.
GREEN & LOVE
MDF wood and iron structure upholstered with polyurethane foam and fibrefill
131 x 131 x H174
2011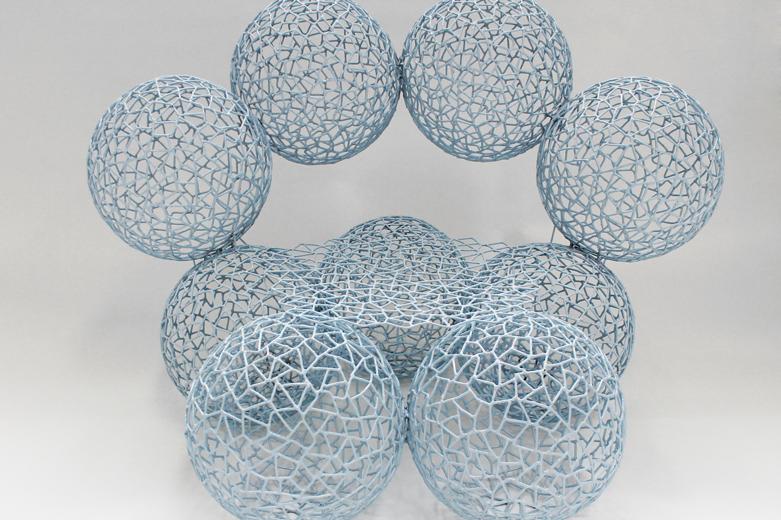 ANACLETO SPEZZAPAN
The works of Anacleto Spazzapan stand between art and design. They are seating-sculptures that may appear fragile, but reveal a strong structure. What looks like a thin coloured net is an intertwining of iron rods that, thanks to a technique invented by the designer himself, confers lightness and full functionality to ethereal and amusing seats.
CHE PALLE
5 mm metal rod cut and welded by hand
110 x 85 x H75 cm
2008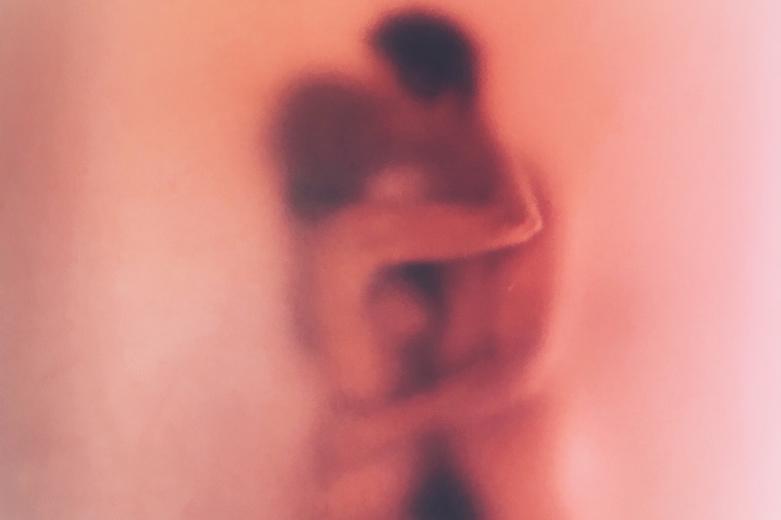 CLAUDIO SANTAMARIA, FRANCESCA BARRA
The union between man and woman is represented by a shot by Claudio Santamaria and Francesca Barra, in which a couple embraces. In the photograph, taken in one of our rooms during a stay of the couple, the boundaries between the two bodies appear blurred enough to make the two bodies merge into one another, while maintaining their identity.
OXITOCIN
Photo on plexiglass
60 x 80 cm
2018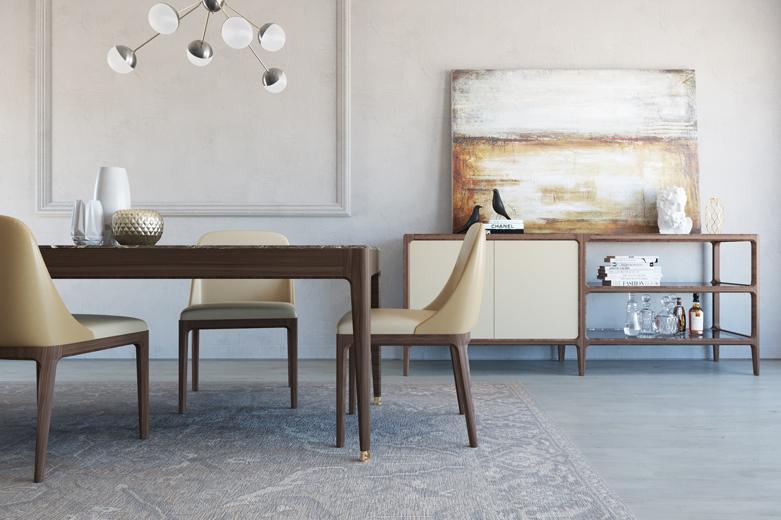 MORELATO
Morelato presents the new Bellagio collection, characterized by refined objects, preciously finished in every detail, mixing polished materials, rigorously natural, with a finely worked solid wood structure. Bellagio offers a complete furnishing from the living area to the sleeping area.
AMBIENTAZIONE BELLAGIO
Sideboard made of ash wood with wood or leather doors and glass shelves
215 x 55 x H85 cm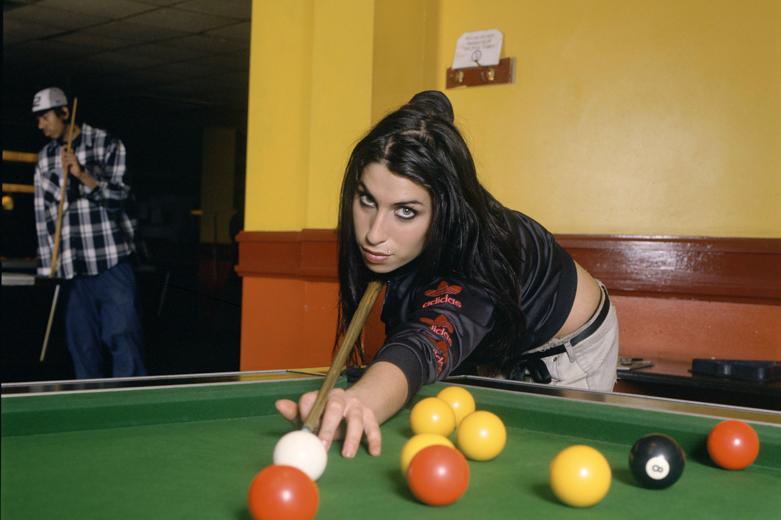 DIANE PATRICE
Diane Patrice is the winner of the London Photographic Association's Gold Award for fashion in 2007. Diane turned a passion for music and her talent for portraits into a career. She has shot global artists such as Rihanna and Amy Winehouse, a big fan of pool and here displayed in a picture of her playing at the local pool hall.
AMY WINEHOUSE
2004, Pool Hall 1, Camden
Fuji Crystal clear photographic paper
Limited edition of 25, signed, in three sizes
100 x 100 cm
2004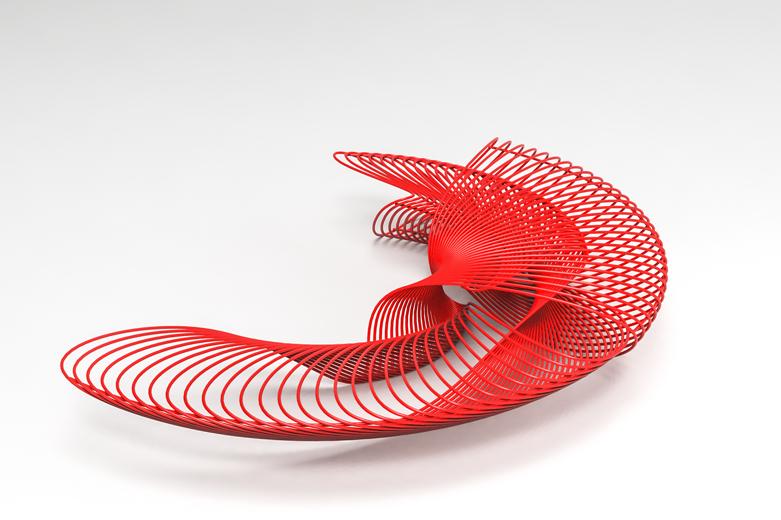 SERGIO MATOS
Sérgio Matos, a Brazilian designer who works closely also with the indigenous peoples native to his country, presents on this occasion a bench that combines delicacy and vigour, contrasts belonging to both male and female. The rigidity of the metal projects volumes and reveals traces of a voluptuous and seductive anatomy.
NOS
Inox 235 x 157 x H40 cm
63 kg, 2018
Limited edition of 7 pieces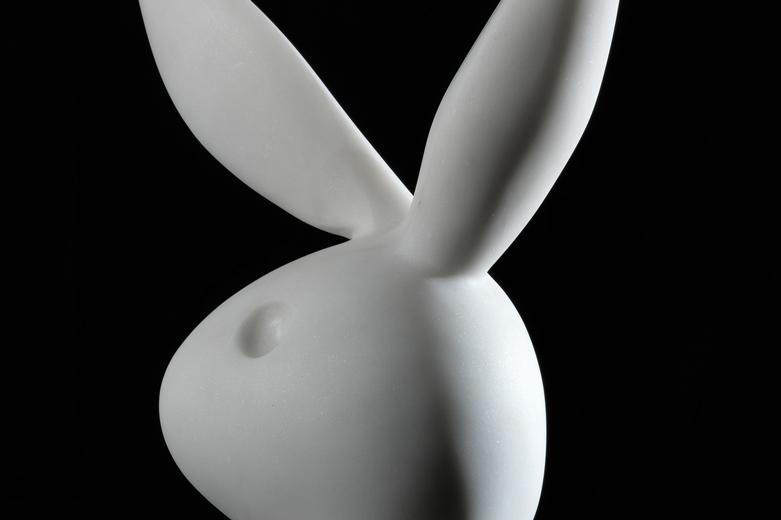 FAT BUNNY
Fat Bunny, reproduces the iconic symbol of the magazine, with its immediate associations to the sinuous forms of the Playboy bunnies and the erotic imagery that they still represent in the male universe. The artist celebrates with irony an icon of our recent history, the first magazine explicitly dedicated to erotic photography and playing an important role in the sexual revolution of the last century.
I'M BACK
White statuary marble
39 x 38 x H34 cm
51 x 50 x H126 cm (with base)
2017
Limited edition of 7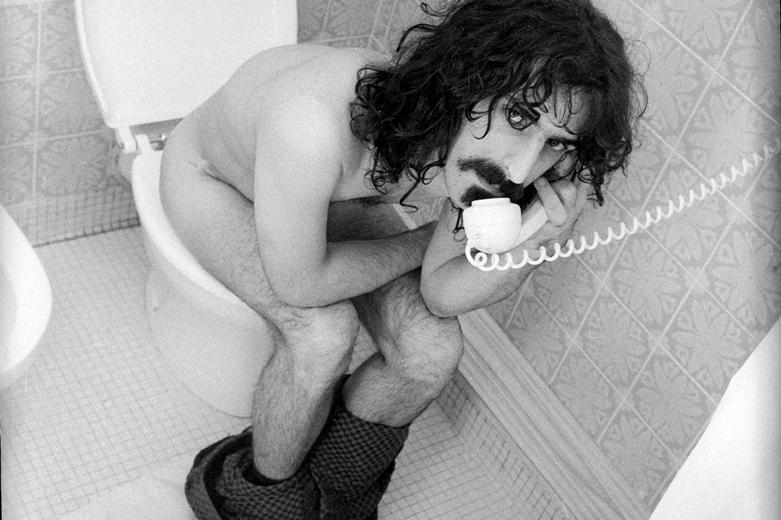 ROBERT DAVIDSON
Robert Davidson is a British photographer, best known for the iconic counter culture image of Frank Zappa sitting on a toilet in a London hotel room in 1967. The picture is on display with the one made by Diane Patrice and together, for their settings and the chosen poses overlap traditional expectations on genres, inviting a thought on what characterises the feminine and the masculine.
FRANK ZAPPA
Frank Zappa, Royal Garden Hotel, London, 1967
Silver Gelatin on Ilford Fibre Paper Signed and numbered
Edition of 19 + 4 APs
87 x 87 cm
1967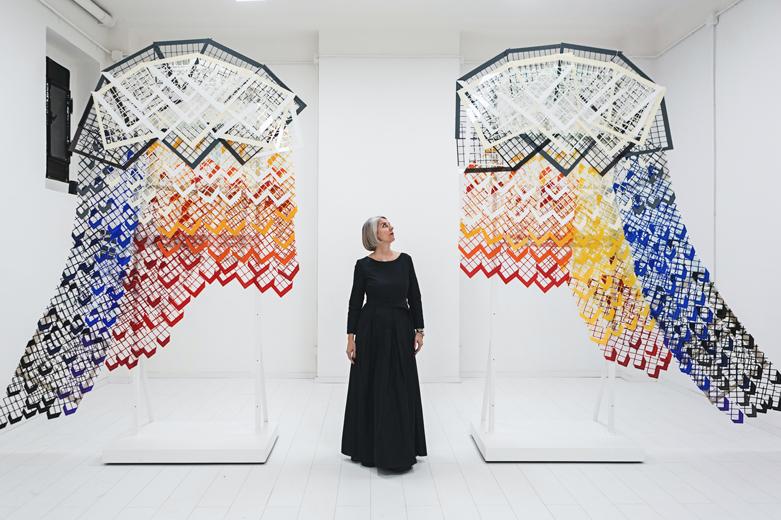 SIMONA SANTASEVESO
SantaSeveso's plastic sculptures reproduce hyper-realistic
fragments of human skin. Once we have accepted our skin/identity, despite the many possible inner conflicts, the spirit flies lightly. This lightness is represented by sculptures of wings and dragonflies, where light and levity of the materials blend perfectly.
VOLO POLIMERICO
Pmma (Polymethylmethacrylate), nylon, iron
260 x 90 x 290H cm (x2)
2017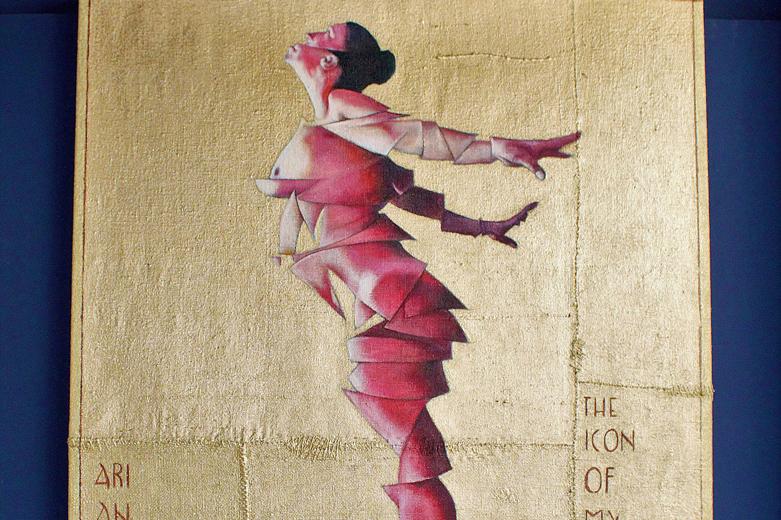 ARIAN LLANI
The paintings and techniques used by Arian Llani show the complexity of the human being. In a sort of new cubism, the figures – a man and a woman represented separately, and united – while being static, seem to vibrate. This is how the artist sees the contemporary human being, in continuous transformation, both in the relationship with him/her-self and when in a couple.
THE ICON OF MY TIME
Mixed technique, acrylic and enamel on jute
134 x 170
2018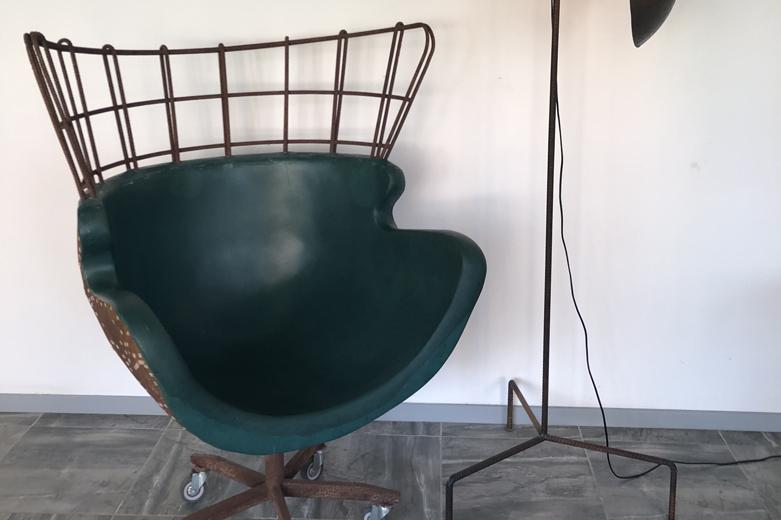 SOLMAZ PRIMAVERA
The Ukrainian designer Solmaz Fooladi, founder of the Solmaz Primavera studio, uses recycled objects and industrial materials, in this case applied to the reinterpretation of a historical design piece, the Egg Chair by Arne Jacobsen. The composition of the concrete chair highlights the unique qualities of industrial materials, and proposes the use of raw materials to create a pleasant and contemporary chair.
EGG CHAIR OF CONCRETE
Concrete, rebar and metal plates
80 x 83 x H145 cm
2017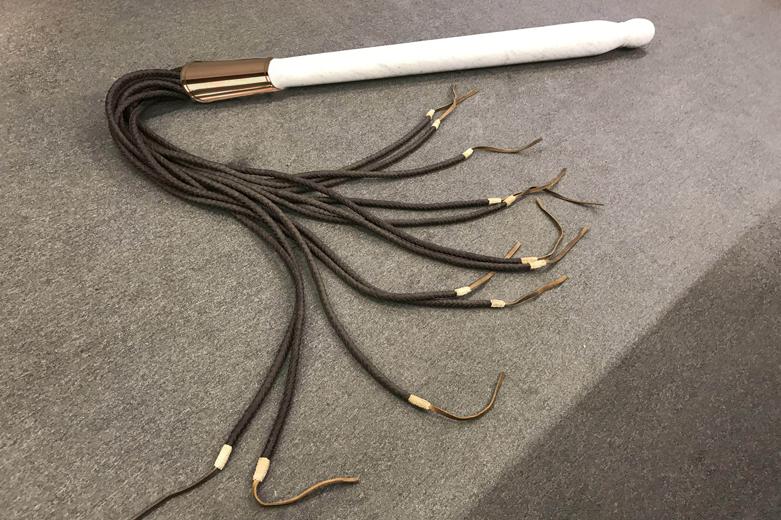 DENIS DEFRANCESCO
The sculpture representing a large whip is symbolic of the various types of behaviour, which can exist in relationships. The whip can be a symbol of strength and punishment, that can be in the hands of both women and men. The handle of the whip is covered with stickers with the hashtag #MeToo, to show that gender does not matter in relationships, which can be based on the power of a woman or a man.
WHIP
Carrara white marble, leather and steel
230 x 15 cm
2018
100 kg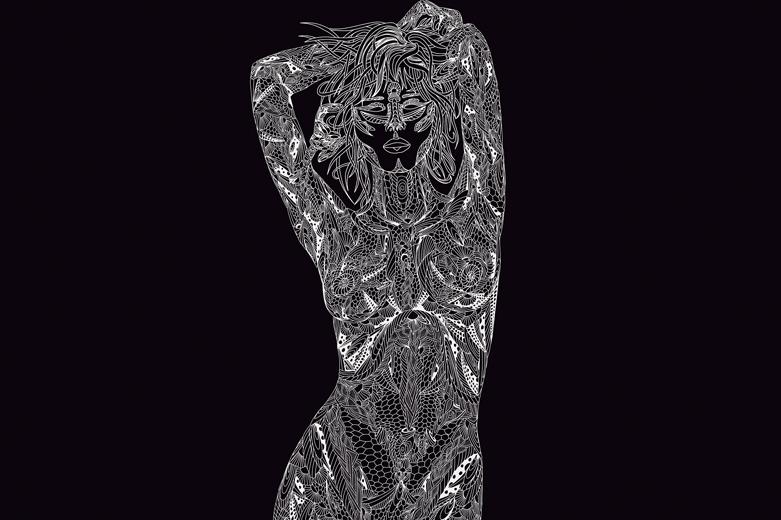 JOHNY DAR
The images from DAR THE BOOK offer a new perspective on the female body, through intricate designs that express the feminine emotional intelligence, often dismissed due to the masculine and social emphasis upon physical appearance, which Dar believes to be the root cause of most of the disharmony between the genres, that is reflected in many aspects of society.
GODDESS OF TRANSFORMATION
Canvas print black/white
103 x 130 cm
2008-2012
Limited edition of 50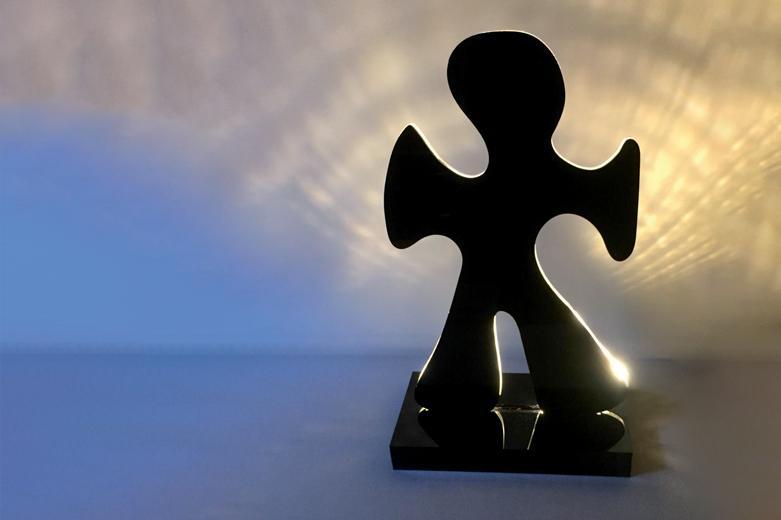 DANIELA RAPPAZZO
Daniela Rappazzo produces lamps and sculptures, but has chosen plexiglass. Her favourite theme is the contemporary man and his fluidity, represented by the material and the soft lines of the works. The contemporary man is understood as a man and/or a woman – also represented here together – where one of the two is always fleeing with the other's heart in hand, and is pursued by the other person.
NUMERO 2
Lamp in plexiglass
25 x 12 x H40+3 cm
2017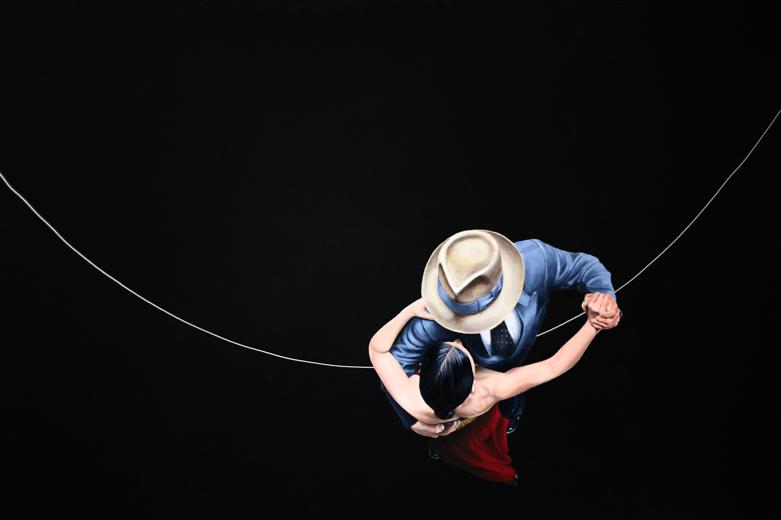 PAOLO DI ROSA
The men and women painted by Paolo Di Rosa move in metaphysical dimensions, where what we see is them and just a few objects, symbols of their interiority and of their desires, passions, fears. The flat and infinite backgrounds seem to isolate them. There does a thread appear, embraces them or divides them, accompanies them off the canvas and their world.
SILENZI IN ASCOLTO
Acrylic on canvas
100 x 150 cm
2018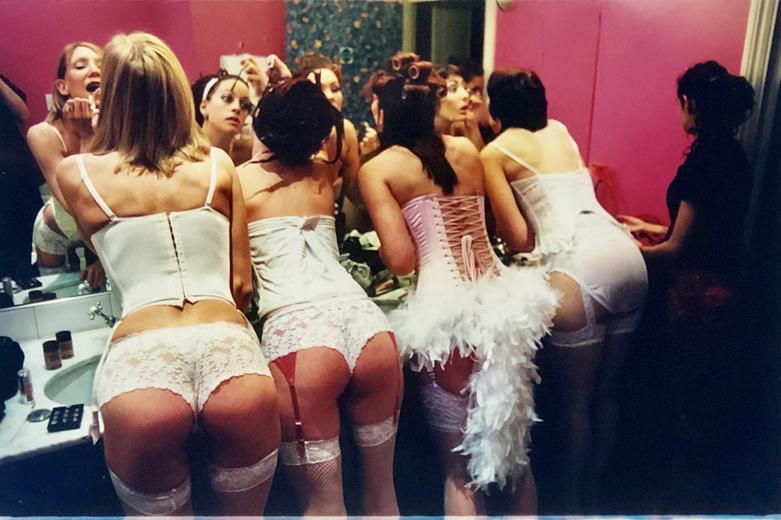 RICHARD HEEPS
Richard Heeps' seductive, highly saturated colours and sophisticated pictorial structures demonstrate a true love for his subject matter – be it portraits, cool descriptive interiors, still life or landscape. His distinctive style pushes the limits of lens-based photography without the need for digital manipulation.
BELLES OF SHOREDITCH
C-Print from negative made in the artist's darkroom
110 x 82cm
2003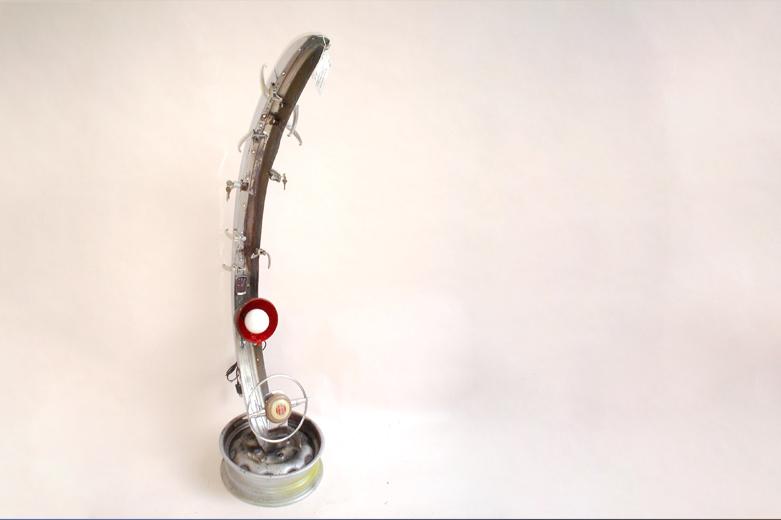 SUSY ZAPPA
The Lightheads in the night by Susy Zappa are sculpture-lamps in which old parts of vintage cars are reused and given a new artistic and functional life. We have here another example of the union of feminine (the creative hand) and masculine (the material used), and a representation of the possibility of always reinventing oneself, which is inherent in the human being.
AUTO TECNICA MECCANICA
Antique car parts
35,5 x H160 cm
2014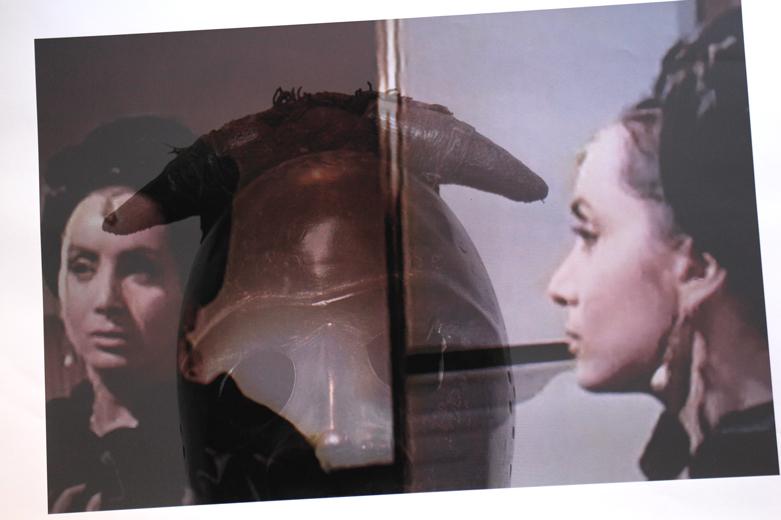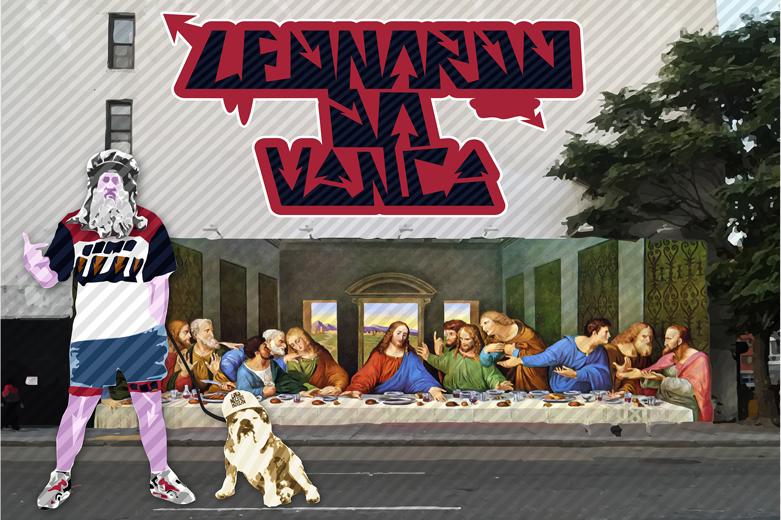 LORD NELSON MORGAN
Lord Nelson Morgan, a Genoese pop artist, reinterprets iconic characters from the past set in a contemporary contest with references to urban fashion, inviting us to reflect on how the perception of men and women can be conditioned by constructs linked to a specific historical or local period.
LEONARDO
"No one Ever Really Dies" Hype Leonardo Da Vinci at Houston Bowery Mural
Spraypaint on backlight
122 x 92 cm
2018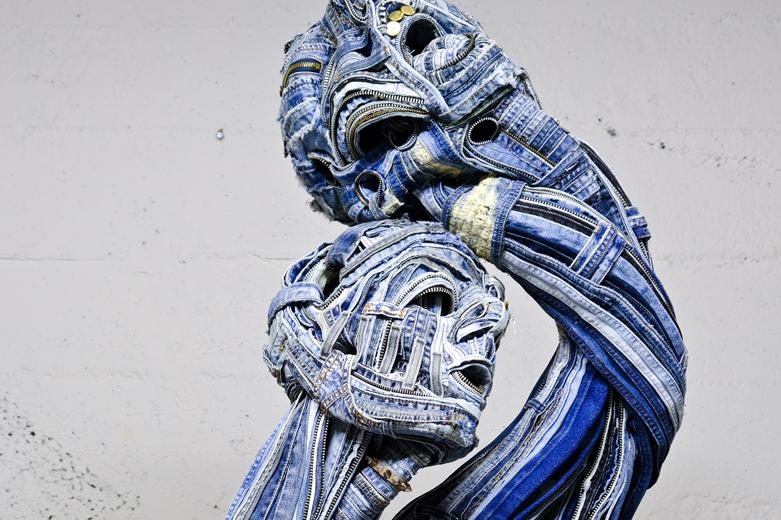 AFRAN
Afran has identified jeans as a material that we could define global, pop, used all over the world, at all ages, as if it were a uniform. A couple of heads made out of jeans, Crazy Plants, look like African masks from Cameroon and Equatorial Guinea. African masks have often been ritual elements, but also instruments of denunciation.
CRAZY PLANTS
Mixed technique / denim (2 pieces)
50 x 50 x H90 cm
2015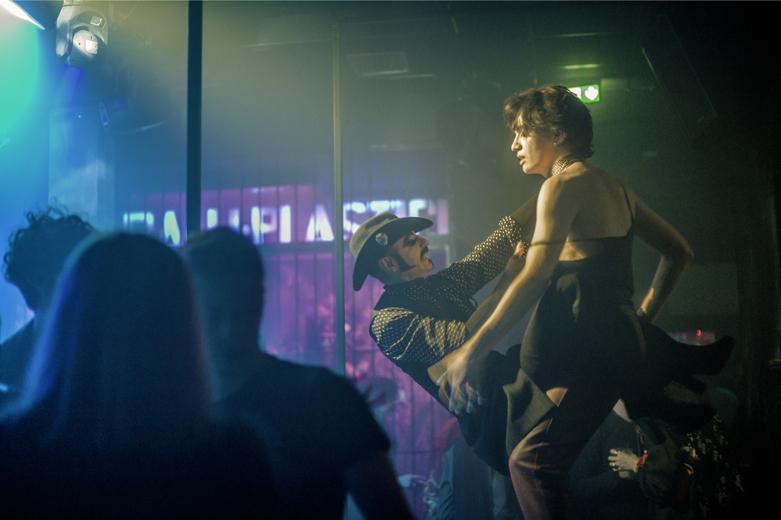 MARICA INNOCENTE
Marica Innocente bears witness to contemporary struggles by photographing with a raw and sincere style. Her shots show human beings where the border between feminine and masculine is not always clear, because the subjects are often going through a personal research, and because there is no border between genders, but the mental one we decide to build.
PLASTIQUE
Lightbox A3 cm
2017 Milano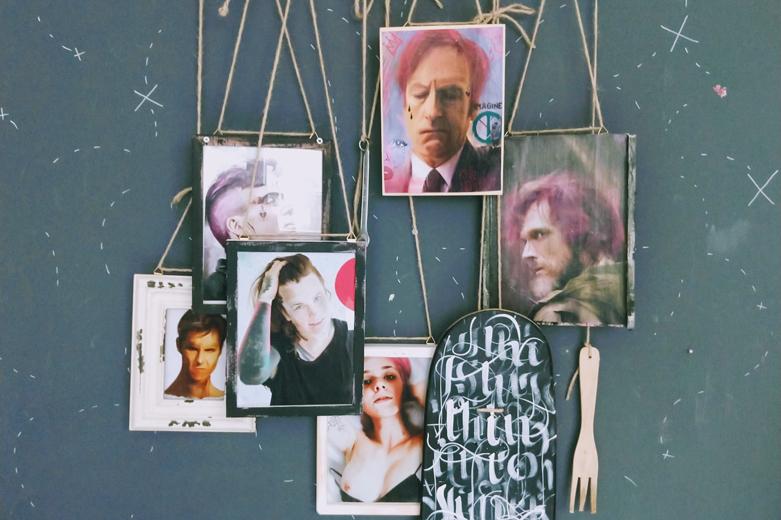 MARIO CORALLO
Mario Corallo works are a composition of independent paintings and drawings linked together by a thread. For the artist, it is a given fact that the boundaries between male and female no longer exist, and that there is fluidity between the genres. We are all unique in the identity we choose to live, and at the same time we are united to others in that diversity that makes us unrepeatable.
I DON'T BLAME YOU FOR BEING YOU, BUT YOU CAN'T BLAME ME FOR HATING IT
Acrylic, chalk and tattoo ink on digital print with wood inserts and quality screws z
100 x 150 cm
2018
DOWNLOAD PREVIOUS EXHIBITIONS' CATALOGUE